Employers are legally responsible for providing to their employees with a safe workplace when working in confined spaces. Given the hazardous nature of the confined spaces, rescuing personnel from confined spaces need careful thought and due consideration. Legislation in this respect generally leaves it up to the employer to decide the type of rescue equipment to rescue personnel trapped in confined spaces. In the USA, there is specific legislation concerning fall protection systems, such as ANSI Z359.1 to which the rescue tripod must conform if used as fall protection equipment in the work process. A tripod winch is one such piece of equipment for rescuing personnel from confined spaces.
A rescue tripod provides a safe anchor point for work in confined areas such as utility holes,tanks, hatches, or silos. Aside from rescuing personnel in an emergency, we can also use the rescue tripods to raise or lower equipment from confined spaces, thus eliminating manual handling.
Made of aluminium, they are lightweight and durable without sacrificing strength and durability. One worker can easily set it up. It is light in nature, so transporting it from one location to another is feasible. The legs of the rescue tripod are length adjustable with a locking mechanism consisting of a safety pin with a locking chain. When the legs adjust in length, the shoes adjust too in increments for added versatility, which can equally be locked in place with locking push pins. At the bottom of the legs, there is a provision for lashing them with a safety chain to prevent any unintended leg movement. A built-in pulley system guides the lifeline of the mechanical device. Drop forged steel eyebolts serve as anchorage points for secondary or backup systems, allowing the eyebolt to hang plumb, regardless of the surface configuration.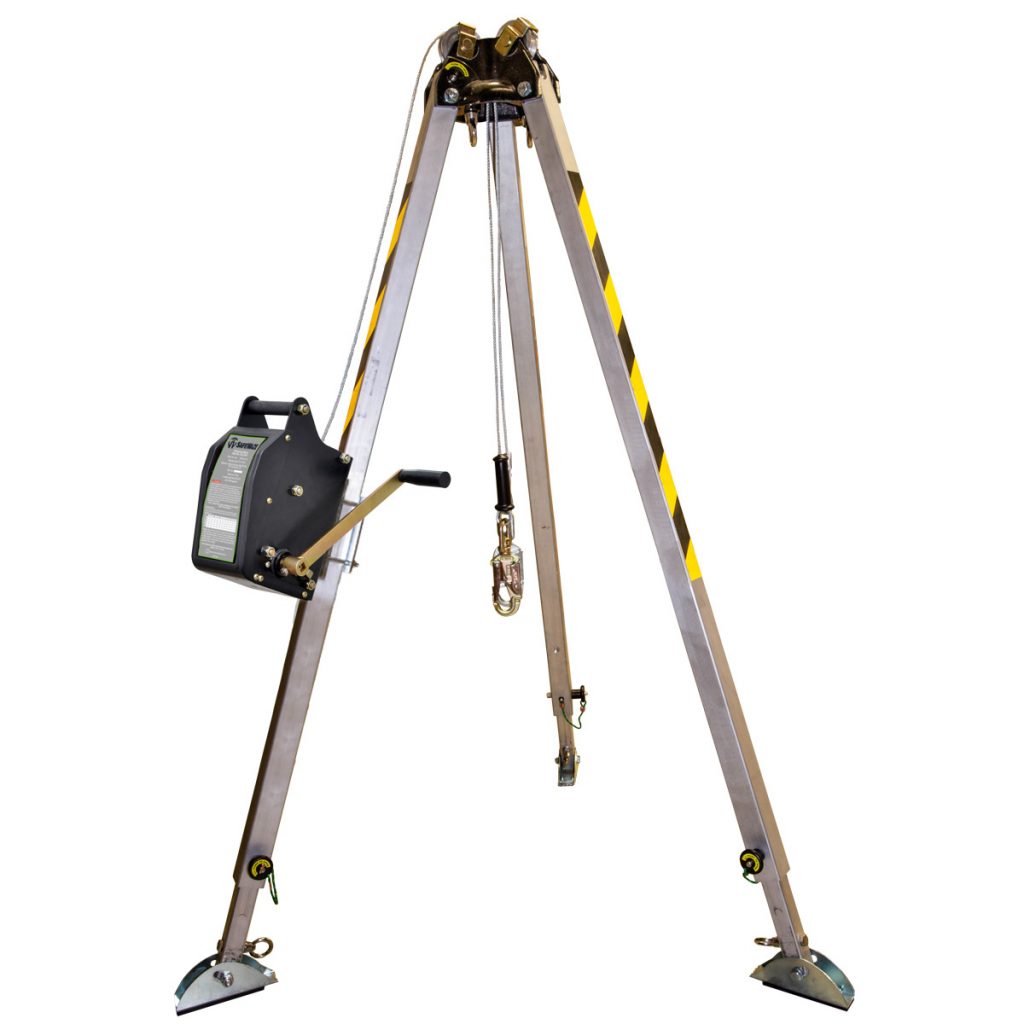 The design of a rescue tripod is for the rescue of a single person only. Their safe working load capacity can range from 140 kgs (for personnel) to 280 kgs (for material). The connectors such as the D-rings, snap-hooks, and carabiners rate at a minimum breaking strength of 5,000 lbf (22 kN). One must observe care to use only self-closing and self-locking snap-hooks and carabiners.
Anchorages on the tripod used for personal fall arrest systems generally must have a strength that is capable of supporting a static load, applied in directions permitted by the system. These are typically at least 3,600 lbf (16 kN) when certification exists or 5,000 lbf (22.2kN) in the absence of a certificate. In addition, a fall arrest and rescue system must meet applicable EN standards requirements when utilized with a rescue tripod. These are EN 795 for anchor devices; EN 362 for connectors; EN 361 for full body harnesses; EN 360 for retractable type fall arresters; EN 1496 for rescue lifting devices; EN 1497 for rescue harnesses and EN 341 for descender devices.
The clearance between the working position of each leg of the rescue tripod is to be a minimum of three feet 3 ft or 0.9 meters, allowing for unrestricted movement of support personnel during its erection, use, and compaction.
The work winch attached to the rescue tripod allows for raising or lowering capabilities. It incorporates a friction disc brake that prevents the winch from free-wheeling, especially when under load. Various models either incorporate a galvanized or stainless steel wire rope. Depending on the model, the wire length can vary from 25metres up to 50m. The wire rope is generally of 6×19+NFC or 7×19 AWR construction with a diameter of around 5mm to 6.3mm
The rescue tripods should generally be adjusted to be at least 2metres or more in height to facilitate the easy rescue and recovery of a person suspended vertically in a harness out of a confined space or maintenance hole. Emergency rescue plans must consider the use and training needs of personnel engaged in rescue operations from confined spaces. The user must inspect a rescue tripod before every use.
The employer should have a competent person inspect the rescue tripod every six months. A competent person should be a person other than the tripod user.
Article written by :
Hormuz Siodia,
NEBOSH Approved Tutor,
Green World Group – Dubai .