There are two commonly used ways to access/egress an offshore rig, there are
Helicopter
Fixed crane of the rig
Now, this is dependent on the individual's designation for which means of access/egress will be utilized. High priority designation would utilize the helicopter, and all other designations will take a Platform Supply Vessel (PSV) by sea.
Platform Supply Vessel (PSV)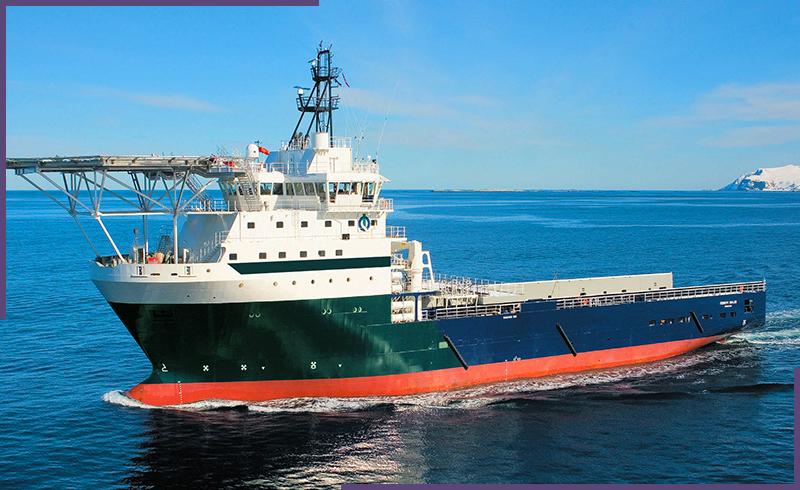 PSV is a ship specially designed to supply offshore oil and gas platforms with logistic support and transportation of goods, tools, equipment, and personnel to and from offshore oil platforms and other offshore structures. These PSVs anchor beside the rig, and an open basket is lowered from the rig with a maximum of four personnel (that are leaving the rig) onto the platform of the PSV, and four new replacement personnel are loaded onto the basket to be lifted back to the rig floor.
The open basket is a basket with unprotected edges except for a small net protected area for small luggage on four sides (one per personnel). The four individuals wearing life jackets have to stand on four separate sides of the basket and have to hold (wrap both hands around) two ropes that are connected from the top of the basket to the platform it.
High winds are a significant hazard when it comes to this means of access/egress.
"In my personal experience, I once traveled 5 hours through a high tide sea on a PSV to be turned back to shore due to high winds, and a day later boarded a helicopter to access the rig."
However, there are certain training requirements an individual must meet prior to accessing an offshore oil rig. Training such as
The H2S and First Aid training is a common requirement for any oil and gas rig, onshore or offshore.
Basic Offshore Safety Induction and Emergency Training (BOSIET)
The Helicopter Underwater Escape & Sea Survival is specific to offshore rigs that are covered in Basic Offshore Safety Induction and Emergency Training (BOSIET).
This is a two to three-day training with both theory and practical, which covers topics such as;
Offshore hazards along with their controls and consequences,
In-flight safety/disembarkation/emergency actions,
Practical emergency ditching and escape training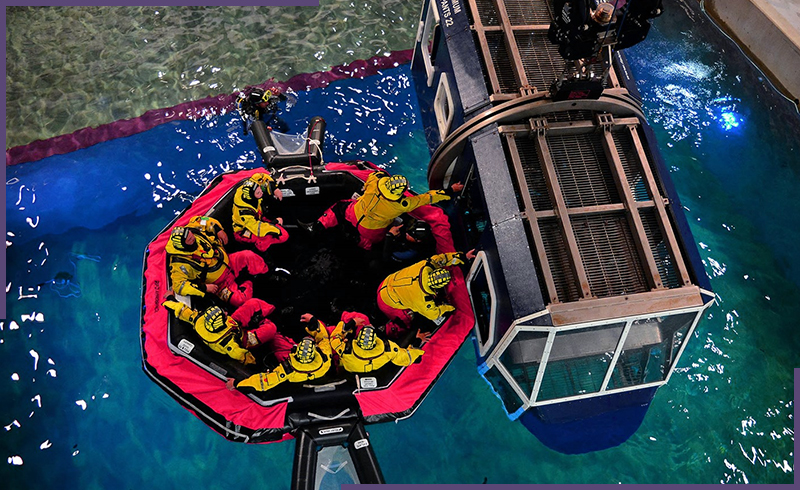 Sea Survival: Abandonment theory and practical sea survival training, actions for mustering and boarding of a survival craft and actions as a passenger during launching operations, use of helicopter rescue straps and winching procedures, and use of escape hoods.
The interesting thing is that you do not need to know how to swim to be eligible for BOSIET, but nevertheless, it is an advantage to know how to swim. They prioritize the mandatory use of a life-jacket from the moment before you step foot onto the PSV from the shore till you access the rig. In the BOSIET training, they reenact how a helicopter will not stay topside when it crashes lands at sea and how we have to take actions to escape the helicopter before it sinks.
Evacuation, Escape & Rescue from Off-shore Oil Rigs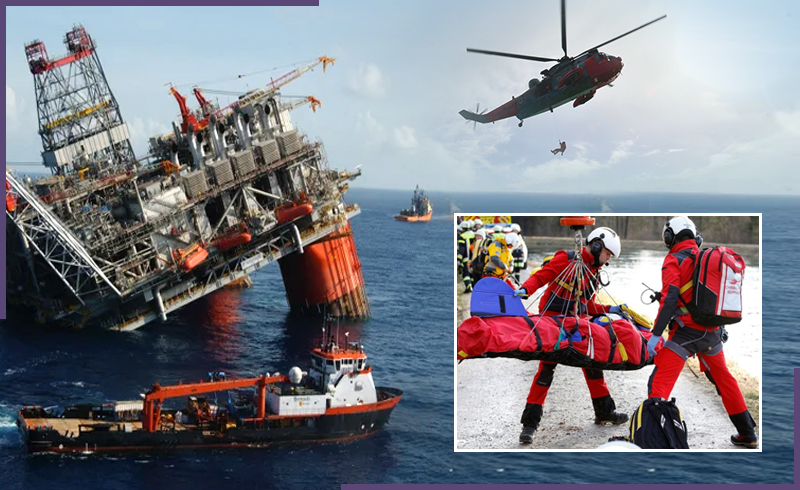 Escaping the helicopter is just the initial step; now, you have to survive the sea till you are rescued. Escaping the rig in case of an emergency by the use of survival crafts is also covered in this training and explained in the custom safety induction of the rig you initially board.
The reason why I said custom safety induction is because each rig has its own health and safety policy, accident/incident reporting procedures, set emergencies and alarms, safe system of work, and emergency escape
routes according to its design. Moreover, some offshore rigs will conduct emergency drills every other day to ensure familiarization.
"All in all, my time on offshore rigs will always be an unforgettable experience to be in the middle of the open sea with no land in sight. Yes, one can be seasick from the boat ride to the rig, especially during high tides, but the rig is every stable and does not move with the waves. The knowledge gained from my field experiences is undoubtedly shared in my training to my delegates. Knowledge is ongoing, and it is power; it can save a life and improve it."
Head on over to the Green World Group to get your share of knowledge in occupational safety and health.
Article written by :
Fasih A. Ahmed,
Senior HSE Trainer,
Green World Group – KSA.