An injury to the head is quite a common occupational accident, particularly in the construction industry. Each year several workers are injured or are even killed due to head injury.
The main risks of head injury in a workplace are:
When there is a possibility that a worker may be struck on his head by a falling or flying object
When a worker may strike their head against a protruded object or may be struck by a swinging object
When a worker may strike their head against an object during or at the end of a fall
Head injuries can result in short- and long-term effects such as:
Brain damage
Concussion
Degenerative brain diseases such as Alzheimer's
Memory loss
Emotional and cognitive symptoms include sleep imbalance, sleep difficulties, depression and anxiety, aggression, and other personality changes.
Physical symptoms such as headaches, visual difficulties, light sensitivity
Paralysis
Fatality
A safety helmet is a very common item of personal protective equipment worn by workers in almost all industrial workplaces. Employers provide for the same to meet basic legal compliance. But it is often neglected to find workers wearing a safety helmet that is in poor condition and long past its expiry date.
A protective hard hat serves the following functions and purposes:
Helping to protect workers from any trauma to the head arising from small falling objects.
Helping to prevent impact forces from transmitting down the spine, if an impact from above occurs onto the helmet
Helping protect from low-level electrical shock (in certain types of helmet only)
All hard hats are made of plastics, including High-Density Polyethylene (HDPE), Low-Density Polyethylene (LDPE), Acrylonitrile-Butadiene-Styrene (ABS), and Polycarbonate (PC). Plastics, when exposed to environmental conditions such as ultraviolet radiation from the sun, heat, paints, chemicals, abrasives, friction, impact, etc., do get subject to wear and tear.
Rarely do employers, when purchasing a safety helmet, care to look into the safety standards of helmets and the manufacturer's instructions for the correct use of helmets. A safety helmet only offers its stated level of protection when used strictly according to the manufacturer's guidelines. Failure to adhere to these guidelines and wearing a safety helmet brings no benefit to the worker at all.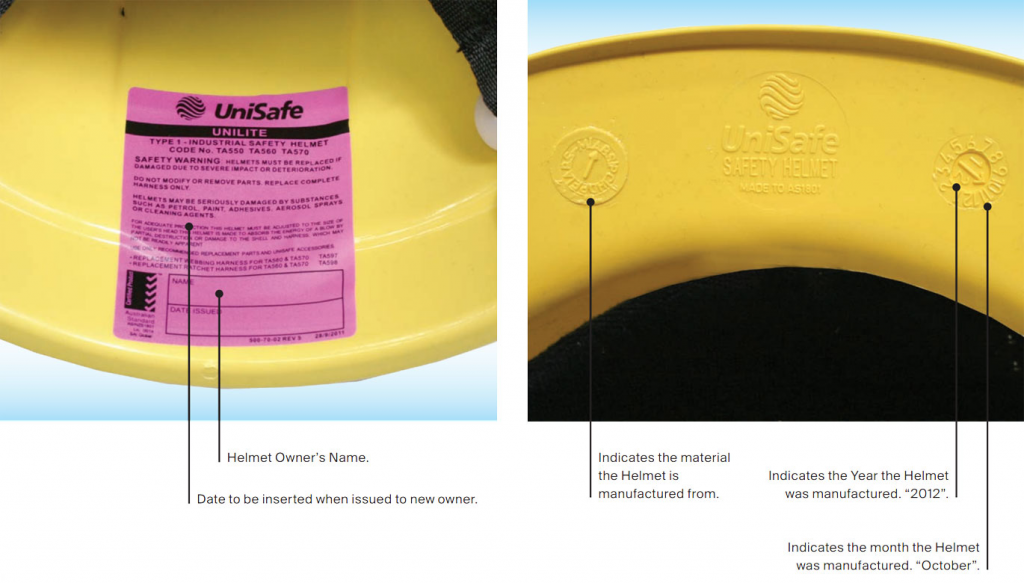 Expiry dates of Safety Helmets:
Yes, safety helmets do come with an expiry date, which is unknown to many. Rarely do safety professionals care to read the user manual of the manufacturer. Generally, once put in service, safety helmets have a service life of between 3 to 5 years.
When it is manufactured, each helmet generally has a year and month of manufacture stamped onto the inside of the shell, near the peak for easy reading. The arrow in the stamp points to the month of manufacture, and the year overlays the arrow mark.
If a safety helmet has been used regularly, it should be replaced once the manufacturer's stated working life period has been reached from the date of issue. It is a good practice to mark the date of issue of the safety helmet using an additional sticker on the inside of the helmet, generally at the backside of the shell. It must be noted that the date of issue is not necessarily the same as the date of manufacture of the helmet.
The Working Life of Suspension / Head-band:
Apart from the helmet's shell, the manufacturer's user manual always specifies the working life of the suspension / head-band, which is generally around 12 months.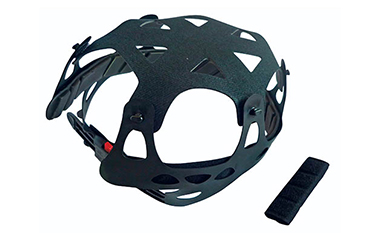 User Inspection:
Rarely are workers given any information and instructions on doing any self-inspection of the safety helmets. In general, it is recommended:
Each helmet must be examined before and after each use.
A user must inspect the shall of the safety helmet for any breakage, cracks, discoloration, craze pattern, chalky appearance, or any other unusual condition.
If the helmet shell shows any of these conditions, then it must be removed from service immediately. These conditions show that the safety helmet cannot supply any protection from impact, penetration, or electrical shock.
The suspension of the helmet should also be checked for loss of flexibility, cracks, breaks, frayed straps, or any damaged stitching. If the suspension shows any of these conditions, replace it immediately.
Next, the chin strap must be examined for missing, cut, frayed, or broken stitching. The hardware on the chin strap must be examined for breakage, cracks, discoloration, or any other unusual condition. If the chin strap or hardware shows any of these conditions, replace the chin strap immediately.
A helmet must always be replaced after impact, or any penetration occurs. Failure to obey the warnings stated by the manufacturer can result in serious injury or death.
Maintenance:
A safety helmet needs to be maintained as per the manufacturer's guidance in the user manual. In general, good maintenance procedures involve:
Never use paint thinner, solvents, or any hydro-carbon-type cleaners such methyl ethyl ketone (MEK), gasoline, or kerosene to clean the helmet's shell. These substances can cause damage to the helmet that is not visible to the eye. A failure to obey this warning can result in serious injury or death.
Never let the helmet fall to the ground or use the helmet as support.
The helmet must be cleaned regularly so sufficient inspection can be done. Use a mild liquid hand-washing soap and warm water to clean the helmet assembly and sweatband. Harsh detergents must never be used for cleaning. After rinsing, wipe the helmet dry with a tissue or a clean cloth.
The suspension must be kept clean regularly to prevent skin irritation.
Prolonged exposure to direct sunlight will always degrade the hard hat shell. Hence a user must not store a helmet in direct sunlight when not in use.
The empty space between the shell and the suspension must not be used to store any objects.
The helmet's shell or suspension must never be altered, punctured, modified, or engraved.
Storage and Product Lifetime:
Factors such as heat, cold, chemicals, and sunlight affect the electrical and mechanical properties of a helmet. A user must take note of the storage life of a helmet, as stated by the manufacturer in their manual, which is generally about two years. A good practice that can be employed is to record the date of initial use on the label inside the helmet.
Standards of Helmets:
A good practice is to always buy helmets from a reputed manufacturer and from a reliable supplier. The most common standards for helmets are ISO-3873-1977, European Standard EN 397:2012 Industrial Safety Helmets, and ANSI Z89.1-2014 American National Standard - For industrial head protection.
A safety helmet should always bear the appropriate marking indicating conformity to certain international/national standards. Helmets certified to the EN397:2012 protect the wearer against short-term, accidental contact with live electrical conductors at voltages up to 440 V AC only. When safety helmets are required to be used in working environments, where there is a potential for contact with high voltage electrical potential (up to 1000V AC or 1500V DC), such helmets must be compliant with 'EN 50365: 2002 Insulating helmets for use on low voltage installations' standard.
Chinstraps:
If a wearer's helmet isn't securely fitted, upon any impact, the protection levels will be comprised. If a wearer were to be struck by any falling object, there is a chance that the impact could knock the helmet off their head in the absence of a chin strap. Thus the use and wearing of chinstraps should be mandatory.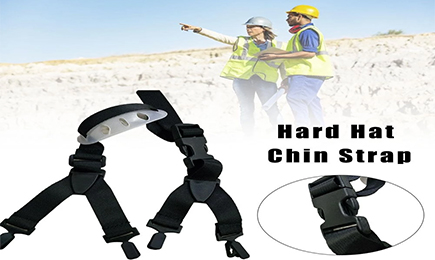 Employer's responsibilities:
Employers must, by law, provide adequate and suitable head protection, and they should also ensure that it is worn if there is a risk of injury to the head. An employer bears the ultimate responsibility and duty to execute a head protection program which should also cover the provision of safety information, instruction, and training in the use of a safety helmet. Employers should determine what sort of lifespan is appropriate for their organization's safety helmets, taking into account their working environment, and ensure that a suitable safety helmet replacement policy is established and applied.
Article written by:
Mr. Hormuz Siodia, NEBOSH Approved Tutor, Green World Group – Dubai