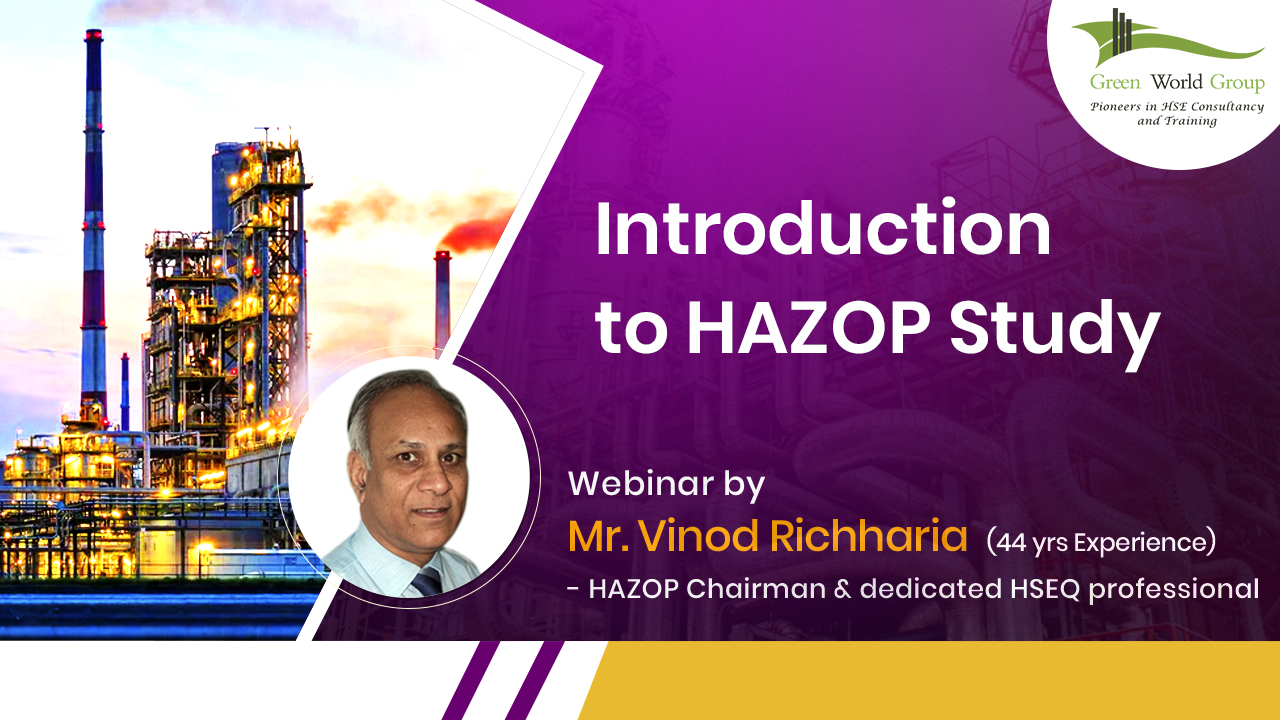 HAZOP Study and Risk Analysis Certification are specially designed for engineers who had prior knowledge related to hazard & operability study and wish to enhance their knowledge in hazard and risk analysis.
HAZOP study is a systematic review of processes or operations to examine the possibilities of any undesirable consequences that can occur due to the deviation in the actual design or operational intent. This method can be used for both batch processes and continuous processes that can be taken to evaluate written procedures.
After the review process, the HAZOP team lists out causes and consequences of deviation along with already existing safeguards that protect against deviation. In case of insufficient or poor safeguards, the team suggests relevant actions to minimize the severity of the risk.
The total duration of this course 8 days with 2 hours of class per day helps even candidates with no prior knowledge on Hazard and Operability Study can also equip the adequate knowledge quickly on HAZOP. This subject learning resource is developed on the basis of oil & gas industry, one of them being Automated Continuous Processes.
HAZOP Certification Course Topics Cover:
Day
Topics
Method

Day – 1

Introduction to HAZOP process

HAZOP Facilitator Driven

Day – 2

Preparation for HAZOP bases on Case study

Group work activity by the HAZOP facilitator

Day – 3

Review of preparation & Node Selection

Day – 4 to Day – 6

Conducting HAZOP (Case Study)

Day – 7

Reporting & Assessment

Day – 8

Additional Information such as,Legislation (OSHA 1910.119 MANAGEMENT OF PROCESS HAZARDS)Available software Other PHA methods and Close out

HAZOP Facilitator Driven Open House
HAZOP Course Objectives:
Apply advanced process HAZOP and risk assessment techniques
Discuss mechanics of dispersion, fire, explosion and toxic releases
Explain the concept of Quantified Risk Assessment 'QRA' and the HAZOP study methodology
Practice HAZOP team leadership
Understand the concepts of risk assessment and risk management
Understand the estimation and evaluation of risks – qualitative, semi-quantitative and quantified risks
Apply techniques for hazard identification and analysis – checklists, risk profiling, HAZOP, FMEA and task-based risk assessment
Apply cause-consequences analysis – the role of fault trees and event trees in accident prevention
Understand HAZOP studies their benefits and their short comings
Understand the requirements of a team leader or facilitator, scribe and team members during HAZOP studies
Facilitate a HAZOP study
Who should attend HAZOP Training?
HAZOP Training in India can take up by those who are involved in the risk management process from any levels of designation such as engineering, process operations, maintenance, production as well as health and safety aspirants.
Assessment:
HAZOP Study and Risk Analysis Certification assessment has been conducted by a series of case study exercises and a certificate of competency is attained on the course subject.
Course Facilitator / HAZOP Chairman:
This online HAZOP Training Course in India is delivered by the HAZOP Champion Mr. Vinod Richharia – has a wealth of 44 years of training experience in manufacturing at chemical as well as petroleum industries and advocates safety culture at its best by contributed as a dedicated HSEQ management trainer, auditor, and consultant in leading process safety industries.
A NEBOSH certified professional, Vinod has done his Masters in Ecology & Environment and Economics and also possesses diplomas in Business Management and Industrial Safety.
Currently working as Oil and Gas Unit QHSE Manager with Mott MacDonald, he is also responsible for the maintenance and implementation of QHSE systems in nine nations. He heads HAZOP studies for various offshore and onshore projects. Before getting associated with Mott MacDonald, he worked with various companies like Union Carbide, SAI Global (Australia), SABIC (Saudi Arabia), and W.S. Atkins, DNV (Det Norske Veritas).
Having vast experience and knowledge in training, auditing, and consulting in different industries across Africa and Asia, Mr. Vinod is also an assessor for well known 'Dubai Quality Award', which is a local version of the EFQM Module.
Apart from being a registered lead auditor and trainer for Quality, OHS, and Environment with IEMA and IRCA, UK, he is authorized to run a training program in HSE by IOSH and CIEH, UK. He is also a HAZOP Lead and validator for CDM projects under UNFCCC (Kyoto Protocol).
HAZOP Certification Course Topics Cover:
Was this article helpful?