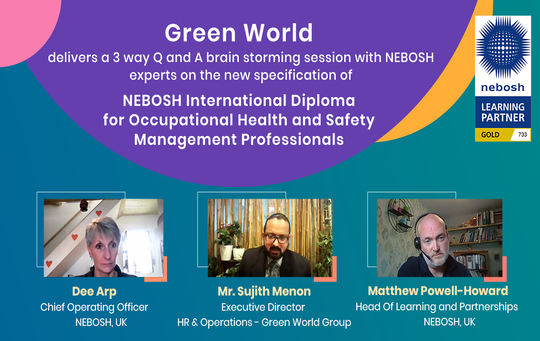 Nebosh has now published a revamped and New version of NEBOSH IDip. The new syllabus for NEBOSH IDip consists of only 3 units.
Unit ID1: Know – workplace health and safety principles (International)
Unit ID2: Do – controlling workplace health issues (International)
Unit ID3: Do – controlling workplace safety issues (International)
"Green World has bring the Unit-Wise Virtual Contact Classes (70 Hrs. Per Unit) for NEBOSH International Diploma for Occupational Health and Safety Management Professionals on its sophisticated Learning Management System in addition to the eLearning Mode of Study!"
NEBOSH International Diploma for Occupational Health and Safety Management Professionals
NEBOSH International Diploma is a qualification specifically designed for aspiring health and safety professionals. It builds on the knowledge provided by the NEBOSH International General Certificate. It provides students with the expertise and knowledge – no matter to which part of the world they belong or the location at which they are working – required to pursue a career as a safety and health practitioner. It is also a platform for progressing to an MSc or more specialist study, such as the NEBOSH Diploma in Environmental Management.
The qualification deliberately looks at general workplace issues so that is can be applied in the many different sectors in which health and safety professionals may work.
On completion of the qualification, you will be able to:
Advise on the types of legislation likely to apply, the relevance of ILO and non-government bodies' guidance and possible enforcement actions.
Identify and effectively communicate relevant health and safety information.
Advise on a range of common workplace health and safety issues including how these can be assessed, controlled and monitored.
Develop a health and safety policy strategy (including proactive safety, Corporate Social Responsibility and the change management process).
Contribute to a risk management strategy.
Promote a positive health and safety culture.
Develop and audit health and safety management systems.
Maintain individual and organizational health and safety competence.
Manage contractors and supply chains to ensure compliance with health and safety standards.
Was this article helpful?